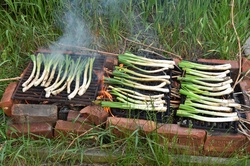 Calҫots are a variety of scallion from Cataluña, Spain that are harvested from November to April. They are grilled over an open fire till charred and then wrapped in newspaper to steam. When ready the charred exterior is peeled off and the tender, warm inside is dipped in a type of romesco sauce. When thoroughly covered it is lowered into the mouth and chewed. It must then be washed down with red wine. You follow that with sausage and lamb also cooked on an open fire. In Cataluña this party is called a calҫotada. It is tasty, messy and a great way to spend an afternoon.




So how did this wildly popular Spanish tradition come to Connecticut? All due to my good friend Len, aka The Wine Tutor. Len is a lover of all things Spanish and he was able to put on his first calҫotoda at his home 2 years ago. He followed up with this one on May 17, 2015.


I have travelled with Len twice to Spain but he has been there many more times. Our last trip was April of 2014, a wine and food trip through
Cataluña. Another friend, Candy, joined us as well on a tour planned by Jeremy of Iberian Wine Tours. Jeremy has many contacts and knows Spain quite well. He took care of everything. We started in Barcelona and ended in Cambrils, with many winery visits and fantastic meals each day. One of our visits was to Mas Trucafort
for a
calҫotoda. Roger and Nina, our hosts, put on an amazing experience. Notice we were wearing bibs.
Back here in CT Len organized our
calҫotada
by ordering the
calҫots from La Tienda, a company that specializes in Spanish food, wine and tableware. They arrange to have
calҫots that are grown in Oregon shipped fresh to your door. Gathering a crew to pitch in Len put on another successful
calҫotoda. I was able to get grape vine cuttings for the fire from my friends at Jones Winery and together with Candy, Peter, Mindy and Ken we all contributed side dishes and wine. Peter and Mindy made 2 versions of romesco sauce. It was every bit as tasty and messy as in Spain.
The only thing missing was a porrón. A porrón is a glass pitcher with a thin pouring spout. It is passed around to everyone, the idea is to pour the wine into the mouth without letting it touch the lips. That makes the whole thing even messier but it really is a lot of fun trying to see how far away you can get it before the wine runs down your chin. I may have to get one soon so I have time to practice before the next calҫotada.