Winery Dinner at Jones Family Farm and Winery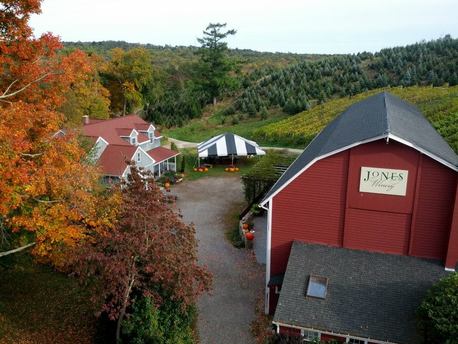 The spring series of dinners is sold out. Thank you! Additional dinners will be posted. Stay tuned for more dates.
Enjoy an intimate evening of food and wine in
a casual setting. Click here for information
Our Sip and Savor dinners begin in the the tasting room located in the historic barn that dates to the 1870's. We will share a brief history of the Jones farm along with wine tasting basics as you enjoy the first wine. Then, it is time for dinner. We move to the Harvest Kitchen where Chef Sherry Swanson prepares a special meal right in front of you. Each course is paired with wine that has been chosen to complement the dish. As you dine we will present information about each wine. We will also explore the culture and food of each evening's theme. Join us for a casual meal in a relaxed setting.
Some of our dinners have included a vineyard walk. Others take place in the barn or on the patio.
Jones Winery staff training
September 21, 2016