For over 25 years Jon has worked as a wine retailer, consultant, wine journalist, and as a wine educator. Jon has completed
The Wine Academy of Spain
program and is now a
Certified Spanish Wine Educator
. He is also a member of
The Wine Century Club
. Jon has traveled to many of the world's greatest wine producing regions to further his own education. One of Jon's most recent trips was to the Rhine and Moselle Valleys and Alsace. Jon has also spent time in Australia, France, Germany, Spain, Italy, Portugal, California, New York and Canada visiting vineyards and wineries. Jon's most recent trip took him to the great wine region of Central Otago in New Zealand.
Currently, Jon runs a weekly educational tasting at a local wine shop, conducts wine classes at several locations, assists in the tasting room and conducts classes at Jones Family Winery and organizes both public and private tasting events. Jon has also taught Wine Appreciation classes at the University of New Haven and been a guest lecturer at Gateway Community College.
Now that Jon has retired after 31 years of public school teaching, he is ready to devote all his energies into wine education.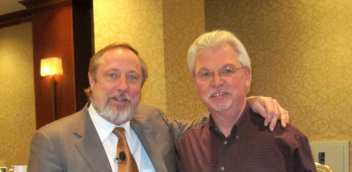 Jon with Kevin Zraly
of Windows on the World
Wine Course
---
Video of Jon discussing the Wine Aroma Wheel