Conducting in person wine tasting classes, in home or office wine tastings, virtual wine tastings and wine education classes throughout Connecticut, Jon Haight will help you take the mystery out of wine. From the ABC's of wine for novices to advanced classes for the wine aficionados, Jon can design a memorable experience for your group.Virtual Wine TastingsWine 101 classes for beginners
In-home or office private wine tastingsWine Appreciation classesWine tasting parties
High end wine tastings
Corporate "Ice Breakers" or team rewards
Wine dinner presentations
Wine and cheese pairing parties
Events or tastings customized to your needsJon is an independent wine educator. He does not represent a distributor or retail store. There will not be "sell sheets" or pressure to buy anything.
Phone Jon at 203 926 0327
Email - info@wineunwrapped.com
Welcome to Wine Unwrapped. This site does
​not track visitors.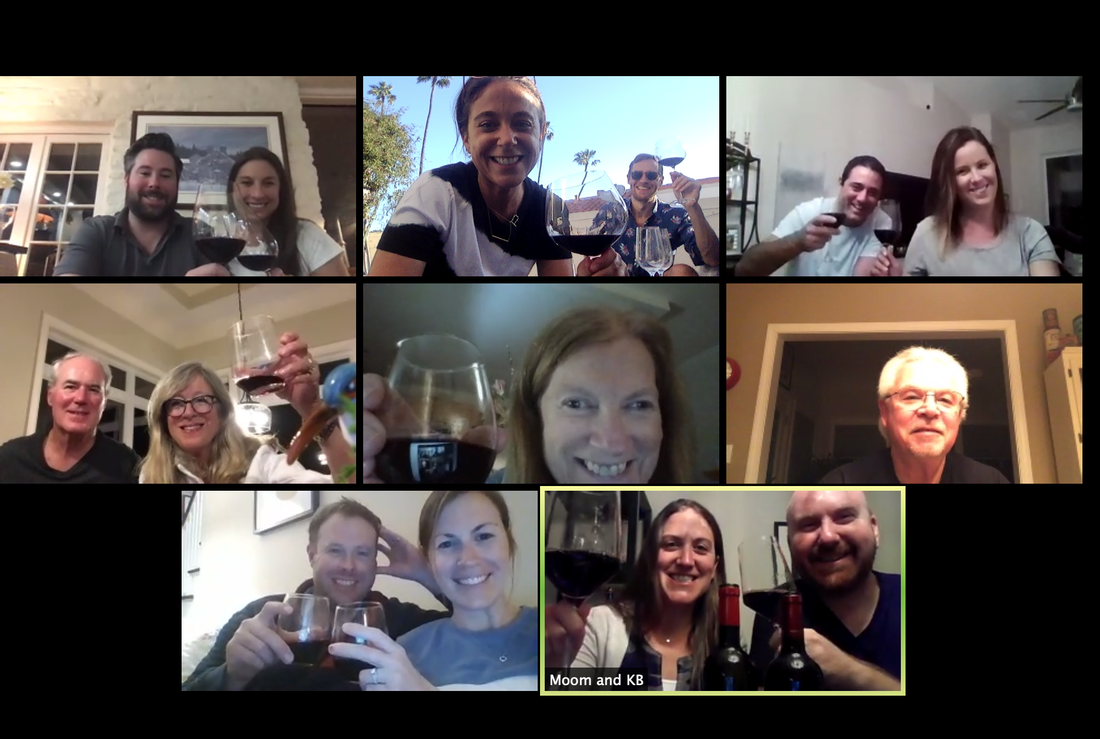 ---
To celebrate our cousins who missed their S African honeymoon due to Covid, we brought together 5 families across 4 states for a 90 min virtual tasting with Jon. The event was a blast! We learned a lot and had fun too. It was so easy to plan, Jon was very responsive to my questions, our back and forth on wine choices (with knowledge on all wineries since not everyone could taste the same bottles). Hosted over Zoom, it's an event we won't soon forget. It was extremely affordable for a group and a great way to spend a Saturday night. Reserve yours today before Jon gets booked up!

I contacted Jon to arrange a Wines 101-style tasting for myself and a group of friends in order to celebrate my girlfriend's birthday. Jon did a wonderful job of tailoring his teaching to the needs of our novice group. He chose an exciting array of wines from the New World and Old, and took us through relevant aspects of each wine's production before guiding us through the tasting. He gave us handouts and other useful materials that helped us to better describe the aromas and flavors that we were experiencing. By the end of the session, we all felt a new level of comfort with describing and appreciating drastically different types of wines.

What impressed the group most was Jon's highly contagious passion for wine making and tasting. He was friendly, personable, and told humorous anecdotes and behind the scenes facts from his years working in the business. Jon was also flexible with regards to the date of the session, and his fee was reasonable. He is clearly motivated by a desire to share his passion for wine with as many people as possible, and I couldn't have asked for more.

Thank you very much Jon - we are all incredibly excited about continuing to apply our newfound knowledge of wine tasting for years to come!

Nik
New Haven, CT


Thank you so much Jon! Our guest enjoyed the tasting and the wines! They called to tell us today. The party went on to 2 am so needless to say, everyone had a really good time. Thanks again!
Sara
April 2015
New Haven


Thank you so much for everything! Everyone had a great time and even learned some thing about wine in the process. You put on a very interesting talk and kept everyone's attention throughout the evening . We were really impressed with all of your knowledge.
I hoped you enjoyed yourself as well. Needless to say...we had a lot of leftovers :)
Thank you again. It was a great time!!
Colleen & Gene

May 9, 2014


Hi Jon,

Thank you so much for all of your hard work and knowledge in helping to put the evening together. Everyone loved having you there... and the wines were fabulous. Mike visited the liquor store yesterday to buy Christmas gifts and came home with 4 bottles of the Merry Edwards Sauvignon Blanc FOR US!! Beth

Thank you, Jon - you did an incredible job. I received so many compliments regarding your presentation and wine selection. Your expertise and warmth were the perfect combination for an event like this. You really made the shower!
Several guests requested your contact information and the list of wines we tasted. We nearly finished the remaining wine at lunch!
I had a lovely glass of the Voignier after the guests left....I loved it and it was perfect way to end a special day. It was my daughter's and her fiancé's favorite wine and the cork they chose to put in their collection!

Please keep me on your event list - my husband and I would love to attend another one of your tastings.

Thanks again,
Susan
Shelton




Testimonials


Thanks so much Jon! Everyone enjoyed it and appreciated your insights. It was perfect. Thank you again!
​Cheshire 1/23


We had such a blast!
Thank you for an interesting session with great wines!
We will definitely reach out again.
West Hartford 11/22



Hello Jon, we were thrilled with your tasting & appreciated the unique, fun experience that it added to our party! So many of the guests commented on how much they enjoyed your presentation and all were very impressed with your knowledge. We would absolutely recommend you as a fantastic addition to any party or gathering! Thanks for sharing your pictures. I've attached a couple that we took and grant permission to use any or all in your website.


Best wishes,
Darcy & Tim May29, 2021

We found Jon through an internet search when looking for a fun birthday celebration. Jon was fantastic throughout the planning process and went above and beyond in making the evening memorable for our entire family. The wines were great and all paired very well with our menu. We also really enjoyed hearing the history of all the wines. Thank you, Jon!
LW Westport 12/19
​
Jon,
I can't thank you enough! Great feedback from our guests, all enjoyed! Very informative, all your wishes were fulfilled and Lynn had a very wonderful party, we all pulled it off! Wines selected were terrific! You opened us up to a new window. Let's keep in touch and I will certainly recommend you to others.
Cheers! I am having a little Tua Rita right now! PV Cromwell

Hi Jon
Thank you so much for coming. You did a great job and my dad really enjoyed it.
I'm so glad I came across your name- you were a pleasure!
You picked some great wines. My brother is already talking about
having you come again. Everyone really enjoyed it.
Thanks again! M.M . Stamford




Thank you Jon! You did a fantastic job. We will definitely spread the word to our friends about Wine Unwrapped. T.P. Orange


Jon- everyone had a great time- your pitch and delivery were absolutely perfect! Thanks again and we'll be recommending you to everyone... Cheers Dave and Eileen Easton



Hi Jon,
We all had such a wonderful time and learned a lot!! The group
really enjoyed all the wines. Thank you so much for making the night so
wonderful. We are already talking about a Spanish wine tasting in the
future...when I'm able to drink again of course :) G.S.
Ridgefield


Thanks Jon,
We all had a wonderful time!
Everyone really enjoyed themselves & thought you did such a nice relaxed & casual
presentation...just the right amount of information with very nice wine choices.

Don't be surprised if you get some calls from people to whom I'd referred you.

Thanks again!
Faith K.
Stamford CT





Hi Jon, know that all of us greatly appreciated the experience you created last weekend. I have also shared your Sauv Blanc recommendations with Meredith and the rest of the group, for which they were thankful. Thank you again and don't be a stranger.
​Manchester 5/23

​

Just wanted to say thank you. Everyone enjoyed your presentations and the wines. There is only 1 unopened bottle!

Greenwich 12/22Jon, thank you so much for an informative and fun presentation! We all loved ALL of the wines!


Thanks a million for being part of a wonderful night!

7/24/21 J.W.
​Trumbull

Jon,


Thank you again for everything you did for making my husband's party a wonderful experience. I am especially thankful for the manner in which you handled the size and complexity of the party. The feedback I got was positive and everyone enjoyed the wines. They definitely will be looking out for some of the new favorites.. JV Oxford

For several years the community at Waterview Landing in Shelton has sponsored an annual wine tasting afternoon held at our gazebo. It's an informal event; everyone brings one or two bottles of their favorite wines and some munchies. Our resident wine expert, Jon Haight, moderates the event, and always makes the experience both educational and enjoyable.

Jon is extremely knowledgeable about wines, both domestic and foreign. Typically Jon will rank the wines by white and red, and by maturity. Since he does not know beforehand what wines will be available it is impressive to watch his skill in sorting the wines.

As the tasting progresses Jon describes the nuances of each wine and does so in terms that are easily understood. We learn, we enjoy, and a good time is had by all.

Speaking for the folks at Waterview Landing, we are thankful that Jon is resident, and would hope that others can benefit from Jon's knowledge and skills. He is excellent at what he does and has a great sense of humor to boot.
Alan W. Morton
President, Waterview Landing Homeowners Association Dear Jon,



I wanted to drop you a note to say thank you for providing our Lions Club with a very educational and entertaining evening on October 27, 2010. The presentation you did on the basics of wine tasting combined with that of a general knowledge of Chilean Wines and Ports provided us with a very informative program that our membership enjoyed. Maybe we could consider doing this on an annual event. Thanks again.




Joe Charbonneau





President, Manchester




Lions Club

​