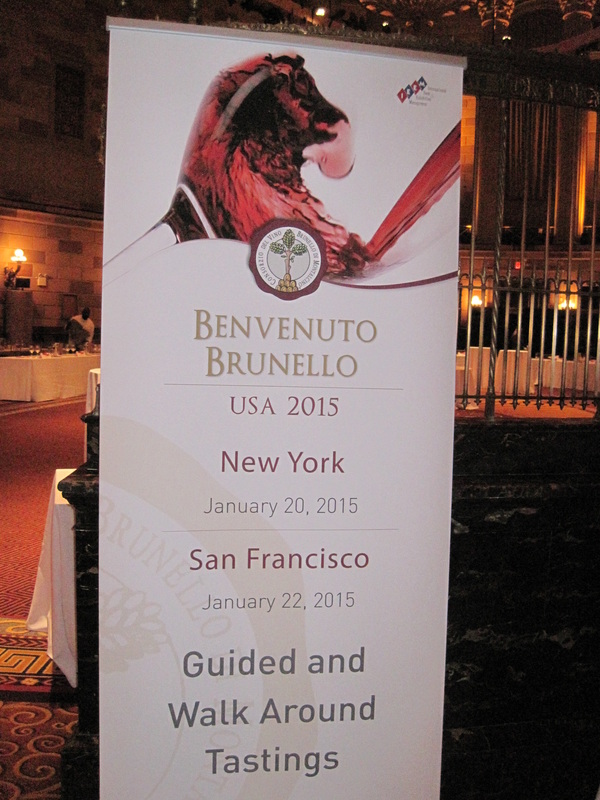 On January 20, 2015 the Consorzio Del Vino Brunello Di Montalcino presented the release of the 2010 vintage of their Brunellos. The event featured a guided tasting presented by Christy Canterbury, Master of Wine, and a walk around tasting. 2010 was an excellent vintage and the wines showed well with wonderful concentration and balance.
The tasting, which took place at Gotham Hall in New York City, was my first opportunity to try the newly released wines. After spending time in Montalcino last September I was excited to taste the new vintage.
While wine has been made in this region for many years, true Brunello is not so ancient. Clemente Santi is credited with isolating the Brunello clone of Sangiovese around 1840. With help from his grandson Ferruccio Santi they replanted with their version. That was the beginning of the Biondi-Santi wines. In time other producers began using the same clone. Even so, Brunello was not widely known until after the the 1970's. According to the Consorzio, in 1975 there were only 30 producers making 800,000 bottles. By the mid 1990's there were 120 producers and today there are 260 producers making 9,000,000 bottles per year.


The wines presented were excellent. Some of my favorites were Col Di Lamo, a relatively newer producer with their first vintage being 2003. Big and rich but still approachable. The Palazzo which gets at least half a year longer in oak than the DOCG requires was also a stand out.


Montalcino also has 3 other DOC wines. We often see the Rosso di Montalcino made with the same requirement of being 100% Brunello but made to be enjoyed earlier. Rarer is the Moscadello di Montalcino made with Moscato Blanco in still and bubbly versions and left with some sweetness. I came across the final type, Sant'Antimo on my visit last year. Essentially it is red(other than Brunello) or white wine made in the Montalcino region. The DOC allows for many different grape varieties to be used and does have some requirements as to yields and production, particularly for Vin Santo. I tasted some at the event that were 100% Cabernet, some with blends including Syrah and Merlot. Many were very impressive. The DOC leaves lots of room for producers to express themselves.